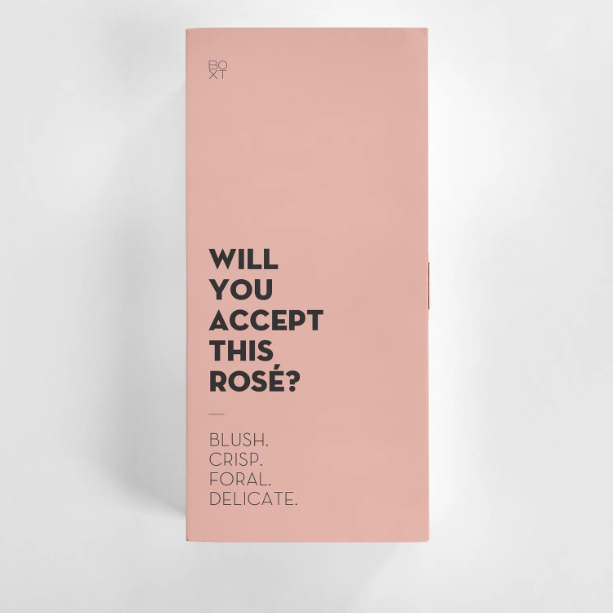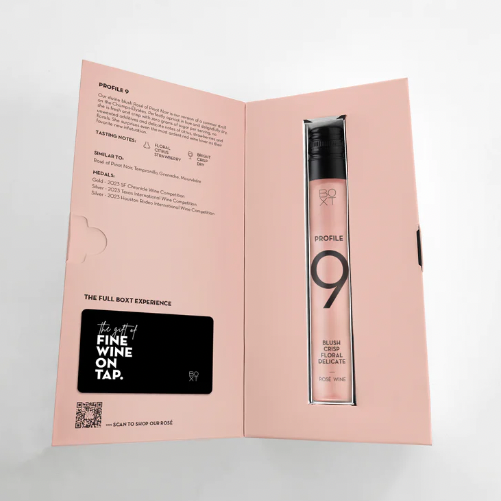 Limited Edition | Gold Medal Rosé Single Serve BOXT® Drinkable Card® (FREE Ground Shipping)
Free Shipping
On All Orders
100% Guarantee
For All Products
comes with
Everything You Need
We prefer cards that come with a nice fat check inside them or....
a delicious rosé from BOXT wine!

***Special bonus - includes a FREE $20 BOXT Gift Card - ships June 19th***

Send a drinking buddy a delicious rosé for National Rosé Day!

NEW PRODUCT ALERT

Always wanted to give our Gold Medal #9, a Rosé of Pinot Noir, a try before tapping into a whole BOXT?
In honor of the unofficial start of summer - National Rosé Day on June 10th - we're releasing our very first Rosé sampler.
Each taster includes a perfect single serve glass of rosé (147ml)
Tasting notes and exclusive access to our rosé pairings
Winemaker review on how we go from vine to BOXT
A $20 BOXT gift card
This fun single serve makes a perfect gift to treat yourself or a rosé loving friend.
TASTING NOTES
Our divine blush Rosé is our version of a summer stroll on the Champs-Élysées in Paris. Perfectly apricot in hue and delightfully dry, she is fresh and crisp with zero grams of sugar per serving, no unwanted additives and delicate notes of citrus, strawberries and florals. She surprises even the most ardent red wine lover as their favorite new infatuation.  Her sparkly new 2023 San Francisco Chronicle Wine Competition Gold Medal is the cherry on top. 
Supplies are limited - product ships 6/19 - order today while supplies last! 
Shipping is included.
Product ships from California starting on June 19th.

Unfortunately our shipper on this BOXT Rosé Card CANNOT ship to these states:
UT, DE, AK, RI, MS

Stay Boozy : )