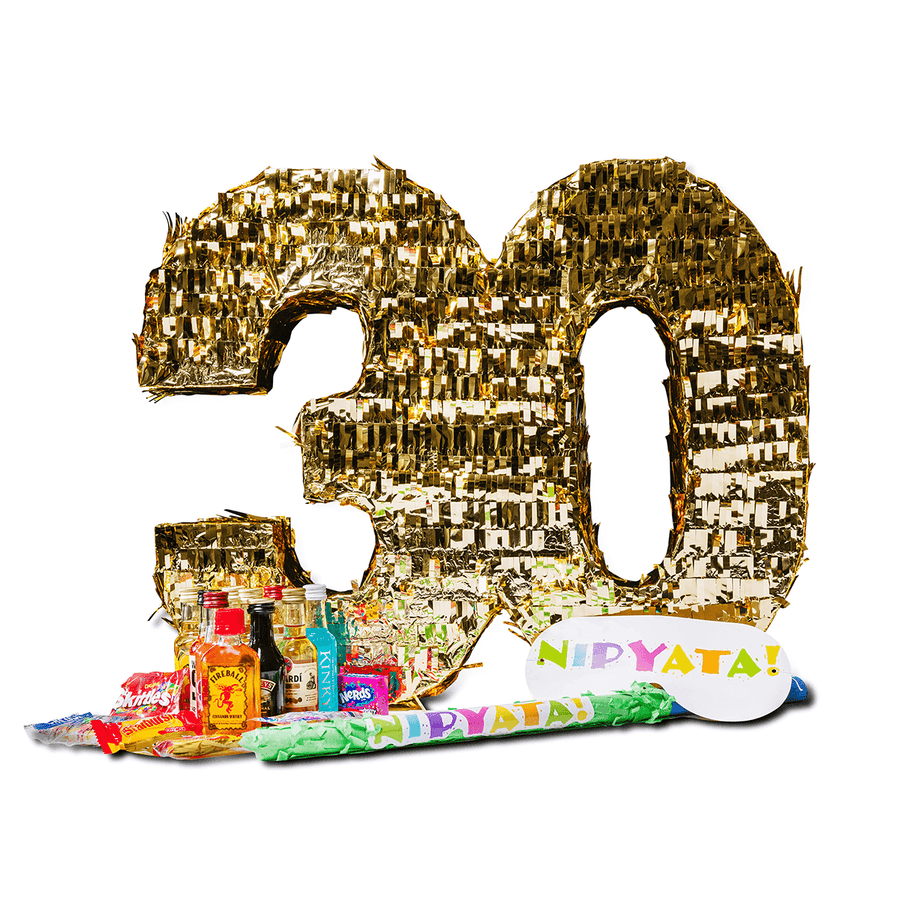 Limited Edition Gold Dirty 30! (15 bottles pre-loaded) - FREE SHIPPING
Regular price
$ 139.99
$ 109.99
Free Shipping
On All Orders
100% Guarantee
For All Products
comes with
Everything You Need
Your drinking buddy will love you forever when she/he sees this booziful NIPYATA! Let's get a few nips inside you and go make some bad decisions! 30 is the new 20. 100% Satisfaction Guaranteed. Don't love it? Return it for free. No questions asked.
Arrives within 2 - 5 business days. Product avail in CA, NV, WA, OR, NM, AZ and ID
Please email hola@nipyata.com for expedited shipping options.
Includes 15 Plastic Mini Bottles (50ml) of Delicious Booze:
Fireball® Cinnamon Whiskey (4), Jim Beam® Whiskey (2)
Deep Eddy® Vodka (3), Smirnoff® Vodka (3),
Sauza® Gold (1)
Bacardi® Rum (1) Howler Head Bourbon (1) 
20 feet of hanging twine, Smashin' Stick and Blindfold
NIPYATA!® Rules of the Game® - Naughty. Fresh. Boozy. Fun.
Assorted Candy:  Skittles, Starburst, Gummy Lifesavers, Dots(20+ packs)
Gift Receipt with no pricing shown on packing slip
Shipped in discreet package
Special forces that ward off evil spirits and bring good luck to all!
100% Satisfaction Guarantee. Don't love it? Return for free. No questions asked.
Size: 22"(h) x 17"(w) x 4"(d)
Demeanor: Boozy. Smashy. Fun loving.
Assembled in the beautiful USA! Can be opened and resealed upon arrival if you'd like to add your own contents. The candy and miniature plastic bottles of spirits are conveniently packed inside the NIPYATA!
Open box. Hang 'Yata. Smash thoroughly. 
For easiest delivery, ship to a business address or a location where a person 21 years of age or older will be present to sign for the package.