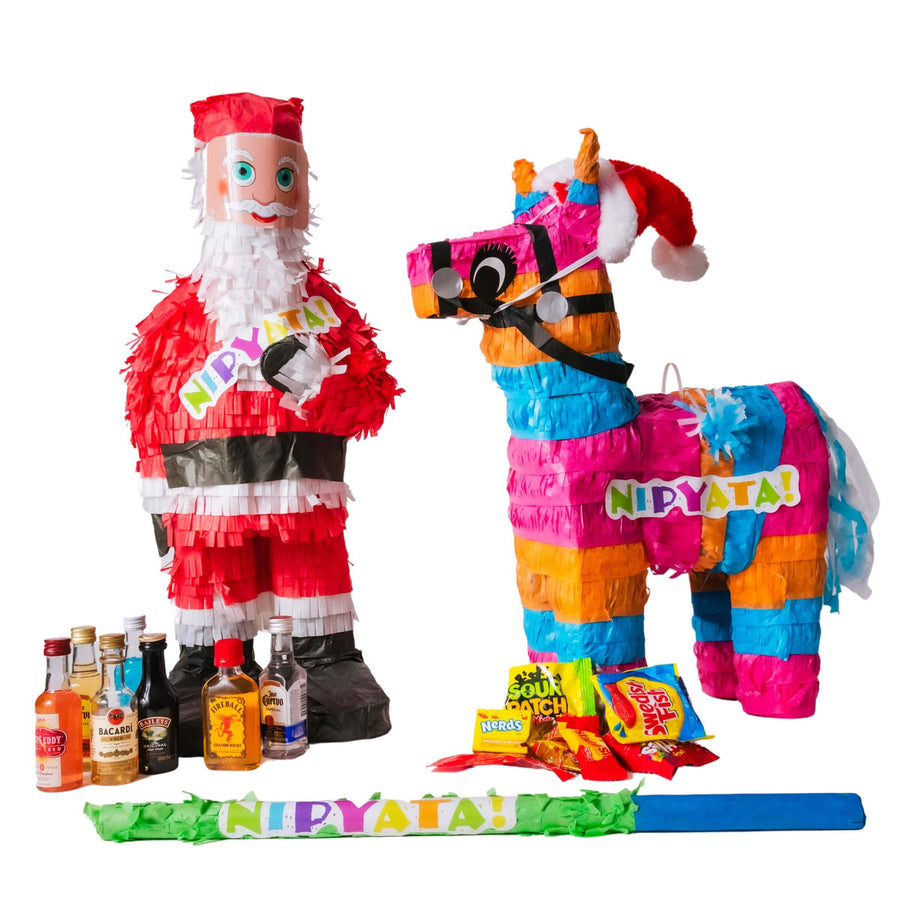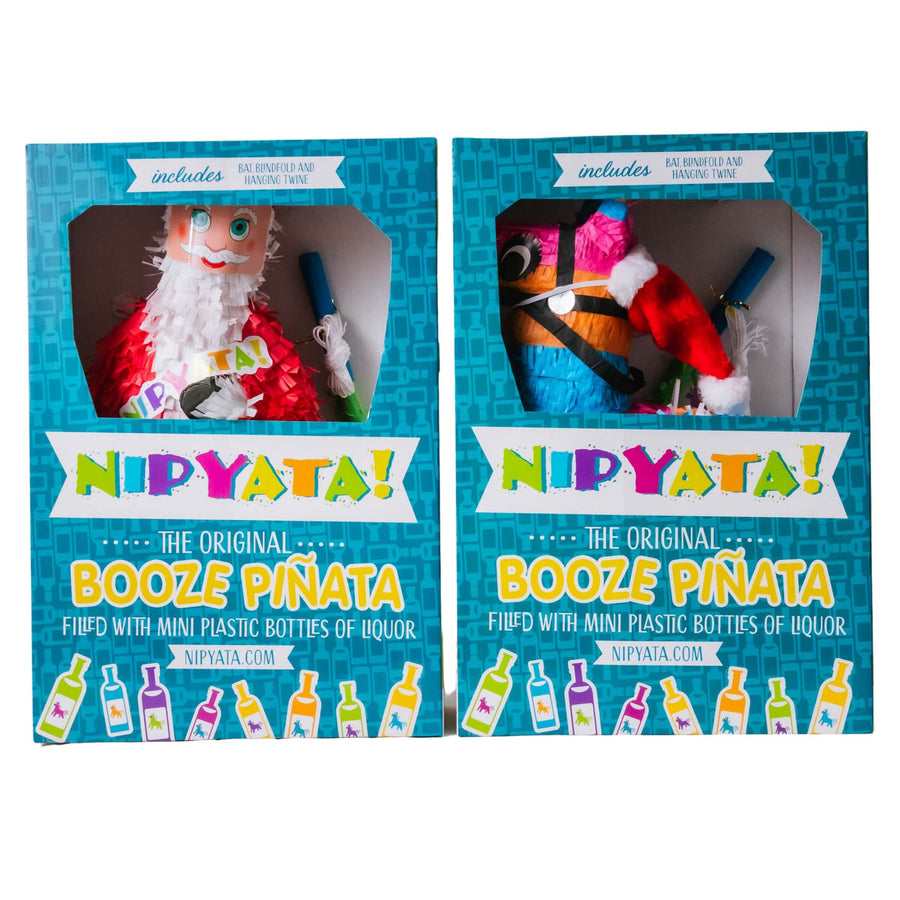 Homebound Holiday Family Fun NIPYATA! Care Package (Includes 2 Pre-loaded Piñatas)
Regular price
$ 239.99
$ 209.99
Free Shipping
On All Orders
100% Guarantee
For All Products
comes with
Everything You Need
Homebound stir-crazy families REJOICE! We've created the ultimate Holiday Care Package that will help you through the holidays during Quarantine. We include two piñatas, 50ml bottles of your favorite spirits, candies, accessories, blindfolds, bats and NIPYATA! Rules of the Game in this big box of fun. Makes the perfect family gift for the holidays!
One mini donkey piñata for the kiddies - filled with candies. Use it as a Friday reward if they behave well and do their homeschooling all week. Recommended Ages 2+ 
One Drunken Santa NIPYATA! for the adults - smashing an adult-strength piñata with a stick is therapeutic after a week homebound with the kiddos. Filled with candies plus 10 50ml plastic bottles of assorted spirits. Have a few nips and unwind with a virtual drinking session with friends. Social distancing can still be a smashing success. Recommended Ages 21 - 125  
 100% Satisfaction guaranteed. Don't love it? Return for free no questions asked.
Kids Piñata Size: 19" x 14" x 7" approx. Grown Up Piñata Size: 20" x 14" x 6"  approx.
Includes:
Baby Donkey Piñata for the kids -  filled w/candies
Drunken Santa NIPYATA!® for the adults filled w/booze & candies
10 Plastic Mini Bottles (50ml) of Delicious Booze (pre-loaded inside the adult NIPYATA!)
Fireball® Cinnamon Whiskey (2),
Jim Beam® Honey Whiskey (1),
Smirnoff® Vodka (2),
Smirnoff® Flavored Vodka (2),
Captain Morgan's® Rum (1)
Bacardi® Rum (1) 
Skrewball® Peanut Butter Whiskey (1)
NIPYATA!® Hangin' Twine - for your hanging convenience (2 sets)
NIPYATA!® Smashin' Stick - 20" long bat! (2)
NIPYATA!® Blindin' Blindfold - the ultimate sight remover! (2)
NIPYATA!® Rules of the Game® - hilarious instructions and gameplay variations
NIPYATA!® Personal Note - tell your friends how much they mean to you
Assorted Candy:  Skittles, Starbursts, Swedish Fish, Nerds (20+ packs)
Gift Receipt (no pricing shown to recipient)
Discreet Packaging - keeps it a surprise 
Special forces that help children listen, behave and bring good luck to all!
Arrives within 7 - 14 business days