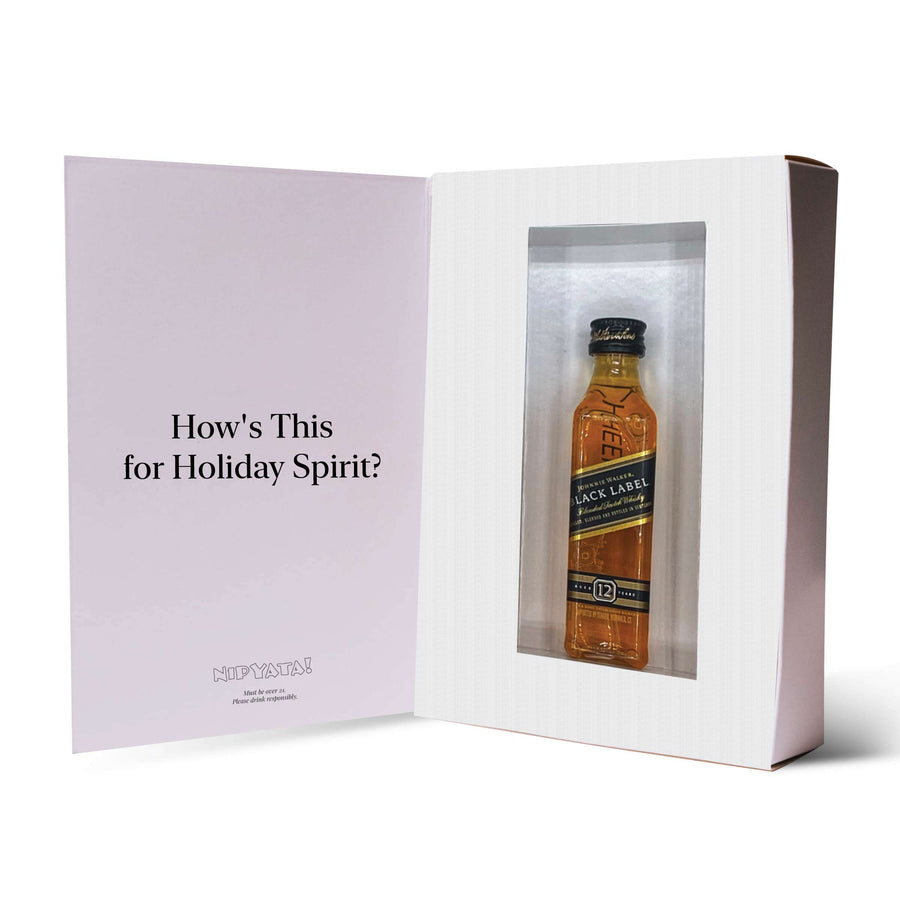 "Season's Greetings!" Drinkable Card® Johnnie Walker Black
Free Shipping
On All Orders
100% Guarantee
For All Products
comes with
Everything You Need
**FREE SHIPPING ON ALL DRINKABLE CARDS**
It's 11:00AM on a November Monday morning: 35 degrees and raining. As you sit at your kitchen counter, sadly scrolling through stocked out Amazon products, you realize the world's supply chain is completely broken and your kids will not be getting any of the gifts they want.
Suddenly, the door bell rings. The handsome man hands you a gorgeous box with a NIPYATA!® Season's Greetings Drinkable Card inside. You open it. It makes you smile. Then you do a shot of delicious liquor and think to yourself, "What a wonderful world."
Boozy. Brilliant. Fun. These beauties will sell out so please order early and often for on time delivery. Email hola@nipyata.com if you'd like to send these to your entire Holiday Card list and we'll handle the spreadsheet work and physical sends.
The Details 
21+ only.
Contains a 50ml bottle of delicious booze
Size: 7.5" x 5" x 1.5"
Delivery: Product is in stock and arrives to the recipient within 2 - 3 business days.
Inside: "How's This for Holiday Spirit?"
Vibe: Just like Will Ferrell in Elf. An absolute delight. 🥳
100% Satisfaction Guarantee. Don't love it? Return it for free with no questions asked.