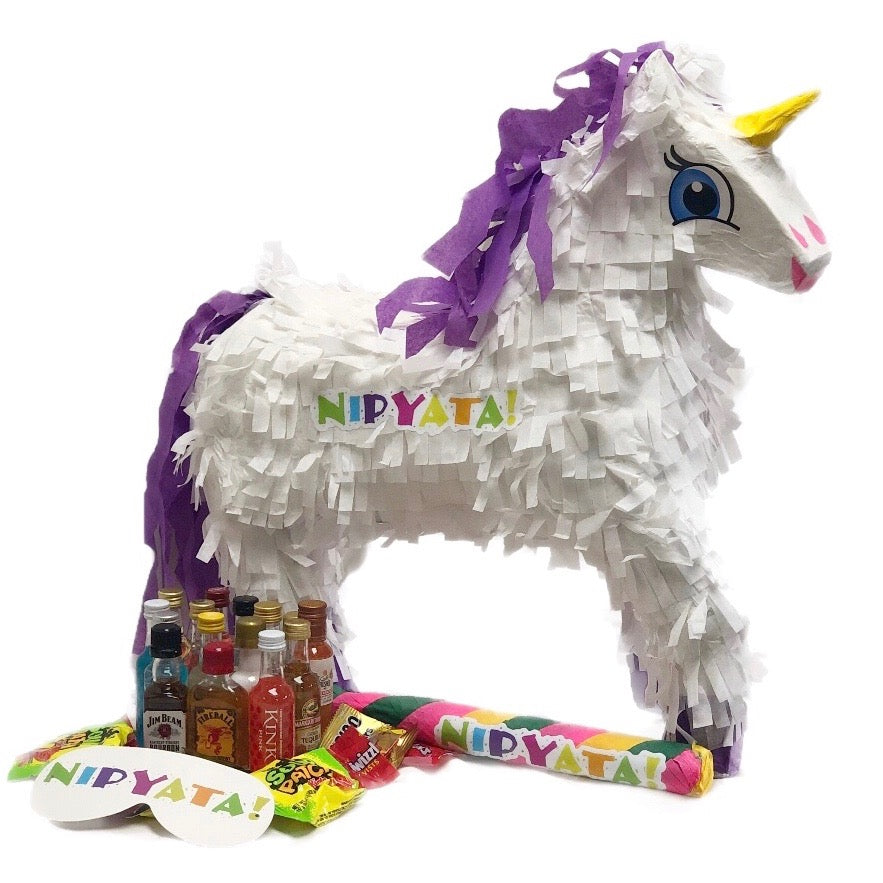 The Fairy Tale Majestic Unicorn-Yata! (12 Bottles Pre-loaded)
Free Shipping
On All Orders
100% Guarantee
For All Products
comes with
Everything You Need
Many thought the mysterious tales of the booze-filled unicorn were just myths.....  turns out he is real. And he is glorious. 
Includes 12 Plastic Mini Bottles (50ml) of Delicious Booze -

our wicked awesome party mix includes: 

Bacardi®

 Rum, 

Smirnoff®

 Vodka, 

Deep Eddy®

 Lemon Vodka, 

Jim Beam®

 Whiskey, 

Jim Beam®

 Honey Whiskey, 

Fireball®

, 

Sauza®

 Tequila, 

Wheat Penny®

 Bourbon, 

Skrewball® 

Peanut Butter Whiskey or click Customize Liquors to customize your selection

 
NIPYATA!® Hangin' Twine - for your hanging convenience
NIPYATA!® Smashin' Stick - built for adults
NIPYATA!® Blindin' Blindfold - the ultimate sight remover!
NIPYATA!® Rules of the Game® - hilarious instructions and gameplay variations
Assorted Candy:  Skittles, Starbursts, Swedish Fish, Nerds (20+ packs)
Gift Receipt (no pricing shown to recipient)
Discreet Packaging - keeps it a surprise - plus your boss doesn't need to know about your drinking and smashing problem
Special forces that ward off evil spirits and bring good luck to all!
Arrives within 7 - 14 business days
Size: 21" by 14" by 3"
100% Satisfaction Guaranteed. Don't love it? Return it for free. No questions asked.